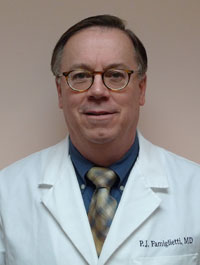 Address:
339 Flanders Rd.
Suite 109
East Lyme, CT 06333
Peter J. Famiglietti, M.D. graduated magna cum laude from Fairfield University in 1977 and from the University of Connecticut School of Medicine in 1981. His internship and residency were at Geisinger Medical Center in Danville, PA, where Dr. Famiglietti earned the position of Chief Resident. After his residency, Dr. Famiglietti returned to Connecticut in 1985 to practice ophthalmology in a medical group, later establishing his own practice in 1995. He is currently in his 15th year serving as Chief of Lawrence & Memorial Hospital's Ophthalmology Section. He performs surgery weekly at L&M's Pequot Health Center in Groton and semimonthly at River Valley Ambulatory Surgery Center in Norwich.
During his career, Dr. Famiglietti has performed thousands of cataract surgeries, including implanting specialty intraocular lenses to correct astigmatism and presbyopia. He also has special interest in pediatric ophthalmology and strabismus, medical retina and laser, oculoplastic surgery, and the new Visian ICL procedure for the correction of myopia.
Dr. Famiglietti is a board-certified fellow of the American Academy of Ophthalmology and is a member of the Connecticut State Medical Society, American College of Surgeons, American Oculoplastic Society, American Society of Cataract & Refractive Surgery, American Society of Pediatric Ophthalmology and Strabismus, Connecticut Society of Eye Physicians, and New England Ophthalmological Society.
Dr. Famiglietti enjoys spending his free time with his wife of 37 years, three grandchildren, and two Jack Russell terriers.
License/Board Certification:
1987, Board-Certified, American Academy of Ophthalmology
1986, Certified, National Medical Board
1985, Joined American Pediatric Ophthalmology Society
1985, Certified, Ophthalmoplasty (ocular plastic surgery)
1985, Licensed, State of Connecticut